Stated Income B-Lenders – Get Stated Income Loans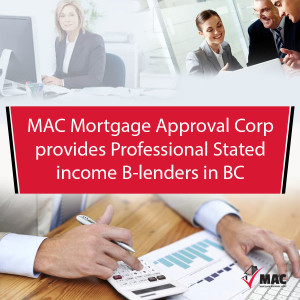 Stated income B-lenders in BC provide you with options that will help you hold on to your home during the foreclosure process. Any homeowner who is close to losing their home can make changes to their loan that will help with payment, and a stated income loan from a B-lender will help speed up the process for you.
#1: Why Does A Stated Income Loan Help?
Stated income lenders BC provide loans with very little paperwork attached. Each loan offered through these banks is provided with the stated income from the applicant. The applicant tells the bank what their current monthly income is, and the bank uses that information to underwrite the loan.
#2: No Paperwork
Homeowners must provide mountains of paperwork when applying for other loan programs, but a stated income loan requires no verification documents from the applicant. You need not use your tax returns, bank statements and pay stubs to prove your income, and you will not wait months at a time for a decision from the bank.
The application is so short that is can be completed in the office with a loan officer, and the application can be run through the system quickly. Applicants who are in need of a loan that will close quickly can begin the process with one application, and the loan can close as soon as an attorney is available to manage the documents.
#3: Less Worry
Homeowners who apply for these loans just before a foreclosure will know the status of their application quickly, and a loan that closes quickly will prevent foreclosure on behalf of the homeowner. Homeowners can change the total amount of their loan, and the loan will allow homeowners to skip a payment as part of the loan program.
Homeowners who are looking for a way to get out from under their home need not sell when they are close to foreclosing. Stated income B-lenders in BC will help change the fortunes of homeowners who need a change in their loan program, and you may go to several different stated income lenders for assistance. Every loan program is different, and you may find one that you favor over the others.
#4: Can You Apply Online?
Online applications for stated income loans help you complete the application process more quickly, and you can complete several different applications at once. Your search for a new loan will end when you find a few different lenders who will help you change your loan status.
Online applications should be made through secure servers, and you must see the https prefix before enter your information. An online application speeds up the process, and your application can be printed once you are finished. You may keep a copy for your records, and the bank will complete the underwriting for your loan at once.
#5: When May Homeowners Apply?
Homeowners are free to apply for new loans at any time, and new applications may be placed when homeowners find themselves in a new financial situation. Times change in families all the time, and each family must feel free to fill out a new application when they need more assistance.
New loans for homeowners who are underwater on their mortgages may be found with stated income B-lenders who specialize in these financial products. A stated income loan will help you change the fortunes of your family, and you can save money on your payments every month. A reduction in your loan payments will help your family stay afloat, and you may continually change your loan as many times as you like. Your only obstacle is the underwriting policies for each lender.